Commerical Pest Control in Phoenix, Arizona
Pest infestations can pose a significant threat to businesses in Phoenix, Arizona, affecting not only the health and safety of employees and customers but also the reputation and profitability of the company. Green Mango understands the unique challenges faced by businesses in the region and offers tailored commercial pest control services to safeguard your establishment from unwanted intruders.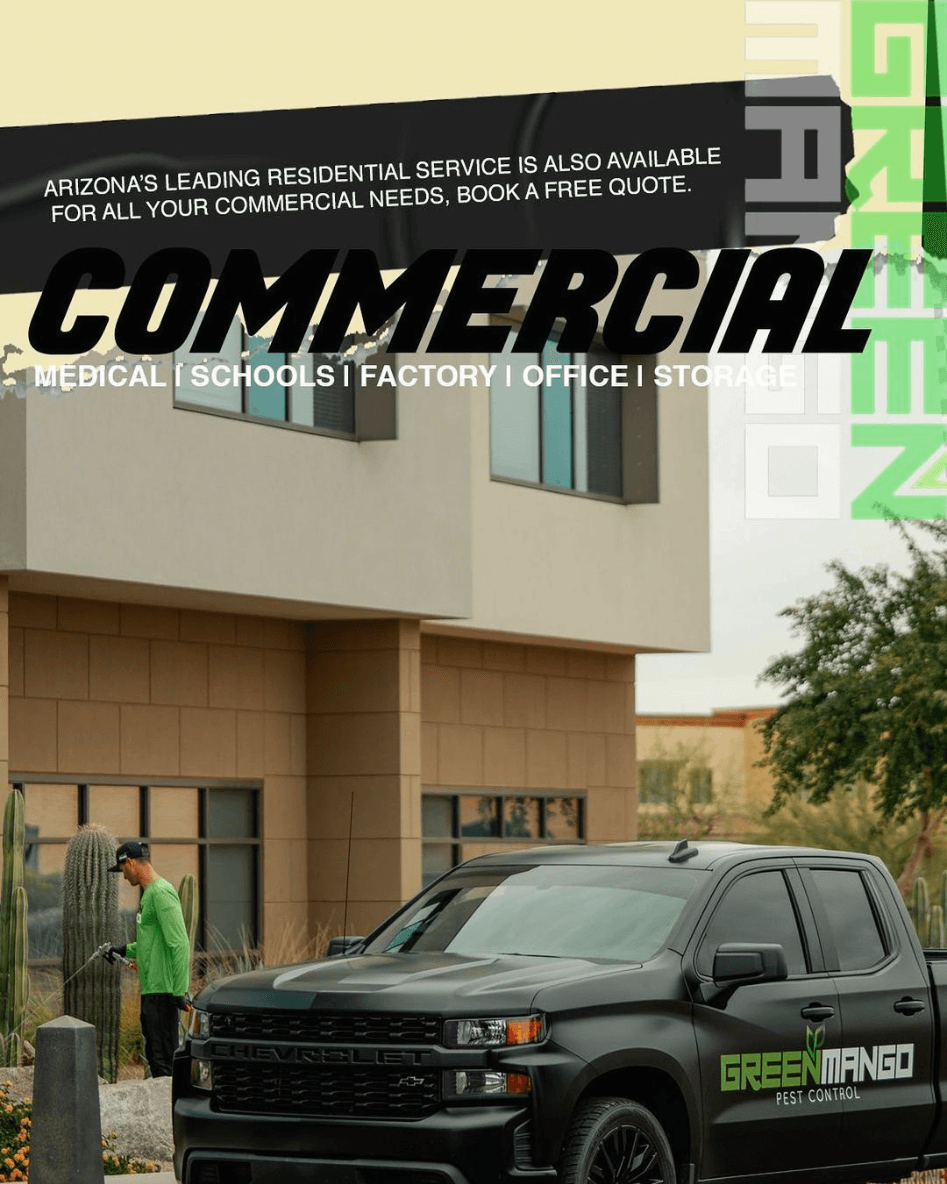 The Commercial Pest Control Challenge in Phoenix, Arizona
Phoenix's warm and arid climate is not only appealing to residents but also to a wide range of pests. From rodents and insects to spiders and scorpions, businesses in the area are susceptible to various pest infestations. These pests can contaminate food, damage property, and create an unsanitary environment. In a competitive business landscape, maintaining a pest-free facility is crucial for success.
Green Mango's Expertise in Commercial Pest Control
Green Mango brings years of experience and a deep understanding of the specific challenges posed by commercial pest control in Phoenix, Arizona. Our team of trained professionals is dedicated to providing effective and environmentally responsible pest control services tailored to the unique needs of businesses in the region.
Our Commercial Pest Control Process
Comprehensive Assessment: Our commercial pest control process begins with a thorough assessment of your facility. We identify existing pest problems, potential vulnerabilities, and the specific requirements of your business.
Customized Treatment Plans: Based on the assessment findings, we create a customized pest control plan designed to address your unique situation. This includes strategies for eliminating existing pests, preventing future infestations, and recommendations for improving sanitation and exclusion practices.
Effective and Eco-Friendly Methods: Green Mango is committed to using effective and eco-friendly pest control methods. We employ a combination of targeted treatments, exclusion techniques, and eco-friendly solutions to eliminate pests while minimizing environmental impact and health risks.
Sanitation and Clean-up: Pest infestations can lead to unsightly debris and damage. As part of our services, we ensure proper sanitation and clean-up to remove pest-related waste and reduce allergen risks.
Ongoing Monitoring and Prevention: Our commitment to your business's well-being extends beyond the initial treatment. We offer ongoing monitoring and prevention plans to ensure that your facility remains pest-free. This includes regular inspections and recommendations for long-term pest control.
Schedule Your Pest Services Today!
Commerical Pest Exterminators in Phoenix, AZ
Why Choose Green Mango for Commercial Pest Control?
Local Expertise: Green Mango is a locally owned and operated company, which means we understand the specific challenges posed by pests in Phoenix, Arizona. Our knowledge of local pest species and environmental conditions sets us apart from national chains.
Licensed and Insured: We are a licensed and insured commercial pest control company, providing assurance that you are working with professionals who meet industry standards for quality and safety.
Customized Solutions: We understand that each business is unique. Our customized pest control solutions are designed to address the specific needs and challenges of your establishment.
Customer Satisfaction: Your satisfaction is our top priority. We are dedicated to open communication, transparency, and delivering the highest level of service to our commercial clients.
Eco-Friendly Practices: We prioritize environmental responsibility. Our eco-friendly pest control methods prioritize the safety of your employees, customers, and the ecosystem.
Flexible Scheduling: We understand the demands of running a business. Our flexible scheduling options ensure minimal disruption to your operations while effectively addressing your pest control needs.
Pest infestations can disrupt the operations and reputation of businesses in Phoenix, Arizona, but Green Mango's commercial pest control services offer a reliable and effective solution. With our local expertise, effective methods, and commitment to customer satisfaction, we provide you with the peace of mind you need to maintain a pest-free establishment and focus on what matters most – the success of your business. Contact Green Mango today to take the first step towards a pest-free commercial environment.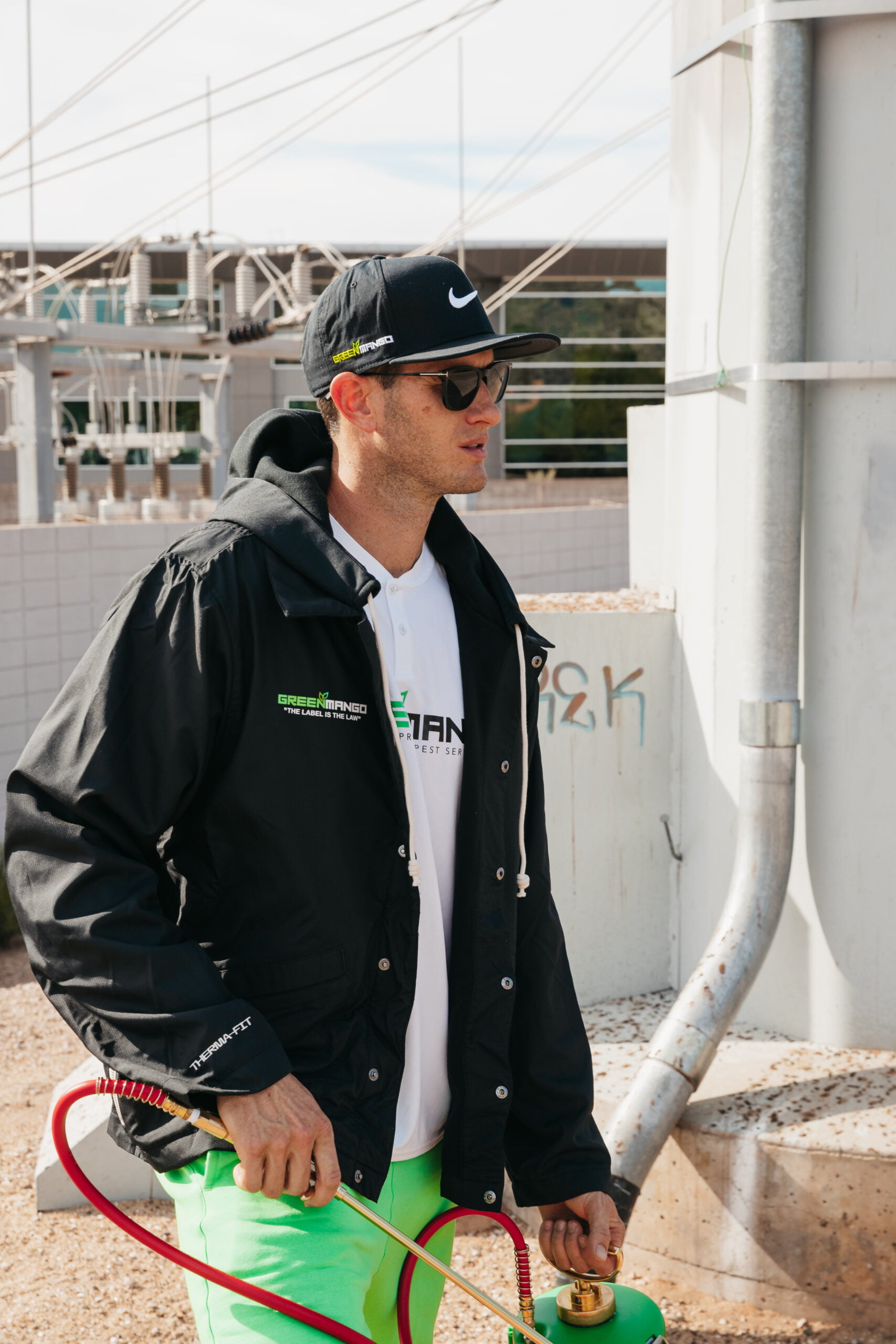 Ready to Protect Your Phoenix Property?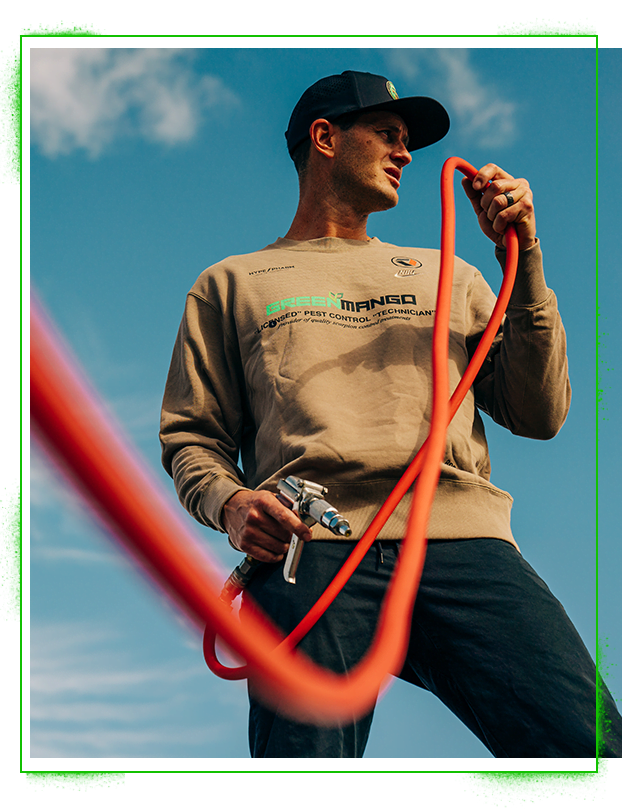 OUR CUTTING-EDGE TECHNOLOGY TACKLES INFESTATIONS EFFECTIVELY AND ENSURES LONG-LASTING RESULTS, ALL WHILE PRIORITIZING YOUR WELL-BEING. IN OTHER WORDS, WE GUARANTEE YOUR PROTECTION WITHOUT COMPROMISING YOUR SAFETY.

WE'RE TRUSTED BY THOUSANDS OF LOCALS, INCLUDING DEANDRE AYTON, JOHNJAY AND RICH, AND KYLE UNFUG.