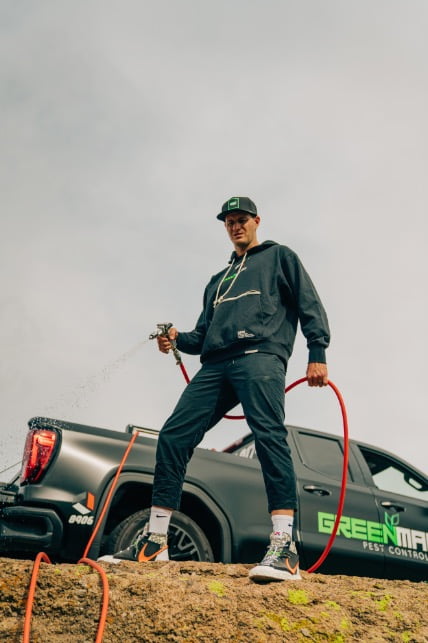 At Green Mango Pest Control, we are your trusted partners in safeguarding homes and businesses across Arizona against unwanted pests. With a commitment to excellence and a passion for pest management, we have been serving our Arizona community. Our experienced team of highly trained and certified pest control experts employs eco-friendly and sustainable solutions to provide personalized, effective, and efficient pest management tailored to your unique needs, ensuring pest-free environments that allow our clients to live and work in peace.
Arizona presents unique pest challenges due to its diverse landscape and climate. At Green Mango Pest Control, we understand the intricacies of pest control in the Grand Canyon State, from scorpion infestations in the deserts to termite troubles in suburban neighborhoods. Our in-depth knowledge of Arizona's pest ecosystem allows us to implement targeted strategies that deliver results. We take pride in our local expertise and our commitment to keeping Arizona homes and businesses pest-free. When you choose Green Mango Pest Control, you're choosing a team dedicated to preserving the beauty and comfort of the Arizona environment.
OUR CUTTING-EDGE TECHNOLOGY TACKLES INFESTATIONS EFFECTIVELY AND ENSURES LONG-LASTING RESULTS, ALL WHILE PRIORITIZING YOUR WELL-BEING. IN OTHER WORDS, WE GUARANTEE YOUR PROTECTION WITHOUT COMPROMISING YOUR SAFETY.
THANKS TO OUR TEAM OF TRUSTED TECHS, YOU CAN ALWAYS EXPECT PROMPT, POLITE, AND PROFESSIONAL SERVICE.
OUR PROPRIETARY TRI-BLOC TREATMENT SYSTEM PROVIDES 3X THE PROTECTION OF TRADITIONAL METHODS, WHILE ENSURING THE SAFETY OF YOUR FAMILY, PETS, AND PLANTS.
IF PESTS COME BACK, SO DO WE. THAT'S HOW COMMITTED WE ARE TO YOU, OUR CLIENT.
At Green Mango Pest Control, our mission is simple yet profound: to create healthier, happier environments for our clients by eradicating pests and safeguarding their homes and businesses. We are dedicated to providing safe, effective, and eco-friendly pest control solutions that not only eliminate unwanted intruders but also promote sustainability and well-being.
We pride ourselves on our commitment to customer satisfaction, continuous improvement, and responsible pest management practices. Our skilled technicians utilize the latest innovations and environmentally responsible methods to deliver exceptional results. With a focus on proactive prevention and education, we strive to empower our clients with the knowledge and tools needed to maintain pest-free spaces. At Green Mango, we don't just eliminate pests; we cultivate pest-free lifestyles for a greener, healthier future.